In 2014 I was a busy mom of two very active little boys. I worked 12 hour night shifts as a registered nurse, I was homeschooling both boys and running my oldest to therapy several times a week. We were also in the middle of doing the GAPS Protocol (a.k.a. I lived in the kitchen) … and then we found essential oils, which turned out to be the thing I desperately needed to help my son.
---
I could have said "I don't have time to build a business". But it was exactly this lack of time that was what drove me. I wanted to simplify my life and have more time for my family (and you know, other basic little things, like sleep)
---
Where to begin:
#1 Get familiar with the products
One of the biggest mistakes that you can make if you are looking to start a Young Living business is NOT using the products. Sometimes people see the income opportunity (which is amazing, yes) but do not see what the real value is that Young Living offers: that we have AMAZING PRODUCTS (End of story. Mic drop. That's it y'all.)
My husband was the first one to see the income potential of Young Living (he is the banker, after all). I, on the other hand, detest money, and I was absolutely in love with my oils. I did not see the financial potential that he saw. But I did see a product that I loved and that I wanted to share with others.
This actually worked well for me, because thanks to that passion I used the oils everyday. I drank the Ningxia Red. I tried the supplements. I did all the research. And I slathered up my kids and anyone else around me … because I had a product that brought results!! I couldn't sell Tupperware. My heart just couldn't be in another network company. It took something that I believed in as much as Young Living to turn me into a "saleswoman".
And so this is step one of the beginning of your Young Living business: USE THE PRODUCTS.
When you are a "product of the product", two very important things happen:
You develop a unique story of how the products have changed your life. People don't buy products. They buy stories and emotions, and they love when you are excited about something that worked for you.
You actually know what you're "selling". How can you recommend someone try something that you haven't tried yourself?
Here are some ways that you can become a "product of the product":
Get on Loyalty Rewards ("Subscribe to Save"). If you are going to buy products, you should save money doing so!
Make it a goal to try at least one new product every month. Some people try one new oil, one new supplement, and one new personal care product monthly. Do what you can afford to do. With time and as your business grows, you will find that you may be able to try more new things at once.
Drink Ningxia Red. This is a must in our house! We find that our health and energy levels improve when we do so and our need for "rescue oils" decrease.
Research one new oil a week. When you learn about them, you'll learn about all the ways you can use them and all the ways that you need them. Then you can share this knowledge with someone else who needs them … and add oils to your wish list.
Work on creating a synthetic chemical free home. Start looking at the ingredients in the cleaning products and personal care products in your home and research what they are doing to your body — and then start one-by-one replacing those products with cleaner greener products from Young Living.
Building a business doesn't have to be hard! It's as simple as sharing something that you love … so find out all there is to love about Young Living, and speak from your heart!
---
#2 Find your WHY
What is a "Why", and why is it important?
To put it simply:
Your "why" is your long term vision for success in your business. Your "why" may change throughout the years: initially my Why was to quit my hospital job and be able to stay home with my boys. After achieving that goal, I needed to find a new "why".
It is often said that "your Why should make you cry". What this means is that your reason for doing this business is so strong that it carries you through the tough times, the "no's", the days that nothing seems to go well — you can work through those situations because your Why is stronger than any difficulty. Your "why" can also be a WHAT or a WHO (my kids were a pretty strong motivation!!)
Questions to help you discover your "why":
Why do you want to generate an income with YL?
What are your current financial goals?
What would that income do for your family and beyond?
What would you do with an extra $500 per month? What about an extra $5,000 per month? Now, let's dream really big here … what about $30,000 per month? It seems hard to imagine but let's really dig deep and dream … what would you do with that income?
Write it down and hang it on your bathroom mirror. Read it/say it out loud daily!
Here is a 10 minute video from a program we did for our business builders in January 2019 where I discuss how to create your why and why it's important:
---
#3 Make a list of everyone you know
When you're trying to figure out who you can possibly share essential oils with, it helps to make a list of every single person that you know. And trust me, you know A LOT more people than you think you do!!
Here are some suggestions to get you started!
Your relatives (parents, siblings, children, in-laws, all extended family, aunts, uncles, grandparents, cousins, nieces, nephews, grandchildren, second cousins many many times removed …)
Who has health problems (who doesn't? Make a list!)
Who respects your judgement
The most enthusiastic people you know
The most successful people you know
People with many many friends
Your beautician
The restaurant owner and employees where you eat
Doctors, dentists, chiropractors, etc.
Insurance salespeople
Telemarketers (lol)
Secretaries
Your kids' teachers and principal, the school nurse, etc.
Your co-workers
People in car pool
Other moms on the playground/parents of your kids' friends
Classmates
People from your religious group
People involved in your hobbies
People from the gym you go to
People involved in your sports
People from clubs you are part of
Who you eat lunch with
Wedding list
Facebook friends
High school friends
House cleaner, gardener, repair man, etc.
Dry cleaners, florist, printer, etc.
Your neighbors
Your boss
People interested in good health
Who is always tired
Whose kids are always sick
Who would get excited about an opportunity
Who needs the money
Your best friends
Who you play cards with
People from your old neighborhood
Car salesman
On the school board or PTA
Policeman, fireman, the mailman or FedEx man that brings you your YL orders!!
Lawyers, accountants
Business owners
From your old job
Friends of your friends of your friends … ask for referrals or if they know someone who could use oils!
People who told you no in the past but circumstances have changed
Stay at home parents
International travelers
Daycare
Veterinarian and pet groomer
Anyone and everyone!
There are a lot of good resources out there for how to approach new prospects without being salesy, so I'm not going to go into that here! But the key is:
Be authentic.
Be positive.
Be compassionate. Care more about them than the sale.
Listen to them, and find out their needs. Don't make your needs have to fit them.
Be mindful. Don't be pushy.
Be consistent.
I have never felt pushy when sharing about essential oils. I simply share what has worked for us or offered samples to a friend who has a need. The most common way I share? People come to me! Once people know that you are the "oil lady", when they have needs that pop up, they know who to ask. This is why being consistent is sooooo important: if you aren't consistently there, they will go elsewhere.
---
#4 Samples & Business Cards
Samples
Giving samples out to your friends (whether in person or through the mail) doesn't have to be difficult. There are a couple different ways that you can give out samples:
You can purchase Essential Oil Sample Bottles (product #3194) from Young Living (they come in a 25 pack). Another option would be to purchase these from Amazon or another store supplying essential oil bottles (Etsy is full of ideas!). Fill up the small sample bottle with one of your favorite oils to share with a friend. Maybe it's PanAway (because they mentioned their joints could use support), or you're sending them some lavender to help their little one to sleep. Send the sample along with a little note on how to best use that oil along with a way to contact you if they would like more information. You could also give them your business card with your Young Living enrollment link.
You can also purchase Essential Oil Sample Packets from Young Living. (Assorted #4940, Lavender #4770, Lemon #4772, Peace & Calming #4774, Peppermint #4771, Purification #5009, Thieves #4773) This can be a more expensive option per drop compared to the sample bottles, and each packet only contains about 5 drops of essential oil. However, these sample packets are flat and can easily be mailed in a regular envelope (saving postage) or fit easily in your wallet or purse.
The most important thing after sharing samples of essential oils is to follow up to see what they thought of the oil and how it helped them!!
Business Cards
Business cards are something of a heated topic. Some people have built a successful business with YL and have never had a business card. Others swear by them as a means to get their contact information in the hands of prospective new members. So whether you have one or not is completely up to you!
Personally, I do have business cards, and I especially like them not just for prospective new members, but to send out to my team when I send care packages and gifts. My business card has a picture of my family on it, so I feel like this helps me to connect with team members that I may not know, especially ones who are half a world away but still very much loved and appreciated!
There are many places that you can order your business card through, and you can even find beautiful custom designs on Etsy. I personally use Vistaprint and I've been very happy with them. If you choose to use Vistaprint for your business cards, you can use this code at check-out to receive 20% off (I don't receive commission off this; it's a code that they offered me and I'm passing on to you 😉 ) ENJOY20 or THANKS20 (either one should work).
Vistaprint website: http://www.vistaprint.com/
Here is what my current business card looks like now (I decided to go with the square design this time for a little more fun!)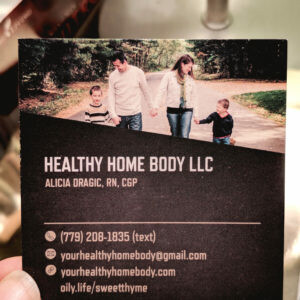 Some suggestions of what to include on your card:
Your name
Your business name
Your phone number (I prefer texting, so I also added that)
Your email
Other ways to contact you
Your Young Living enrollment link (you can generate your link here: https://www.youngliving.com/us/en/myaccount/shareyl and then shrink the link using this site (so it isn't so crazy long to fit on a business card): https://bitly.com or https://tiny.cc
Your website if you have one
Some also have used their card as a coupon; so they have their personal information on the front, and then on the back they say that this card can be redeemed for $10 off (or another amount under $25) a starter kit if referred back to us. (My hubby had this on his business cards. It's a great idea!)
It's also a great idea to include your picture on your business card if you can. Especially if you're using these at vendor events or somewhere where people are given several cards (or if you're handing your cards out at businesses), it's nice for them to have a visual reminder of who you are
---
#5 Signing Up New Members
We discussed this over on the last page you were at; you can click back to it to review how to help someone get started … The more you hear it, the more you do it, and it will become second nature!
---
#6 Follow Up
After your new member orders and gets their essential oils, it is very important to follow up with them! Remember what it was like when you first started out: maybe you were uncertain how to use the oils or were worried that you would do something "wrong". Maybe even turning on that diffuser was overwhelming! Connect them with our website here, and show them the "Beginner's Guide to Essential Oil" class and the various videos that they can learn from (feel free to send them direct YouTube links as well to videos that might be especially helpful to them, such as "Oils & Kids" or "Hormones", etc.) Check in with them regularly and see if they have any questions.

For all my friends who enroll with me, I like to gift them an essential oil reference guide or app to help them learn more about oils as well as help them feel empowered to find the answers on their own. The more we help them and the more comfortable they feel using their new oils, the more likely they are to use them! One of the things that bothers me the most is when someone buys a beautiful new starter kit and leaves it sitting (sometimes unopened) on the shelf. The oils can only help you if those molecules are actually coming in contact with you in some way, shape or form!! 🙂
---
---
What is the best way to grow your Young Living business?
Is it classes? Social media? One-on-one's? Finding people who are successful and then imitating every little thing they do?
The answer is much more simple than you would think!
---